Firefly is proud to be a stockist of the David Trubridge range of world renowned designer lighting and 'Adorn' Jewelry, all based on organic forms found in nature. Produced in Hawkes Bay, David Trubridge products are manufactured to last, with a strong emphasis on protecting our environment utilising ecologically sustainable materials and processes. Most of the lights are sold in kitset form (the 'Seed' range) to minimise freight demands.
If you are looking for a distinctive and stylish designer piece come and view the extensive range of David Trubridge lighting on display in our Auckland showroom.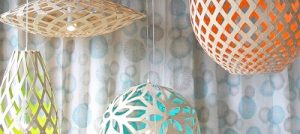 An assembly service is available for instore purchases.
To see how your chosen David Trubridge light would look in your home click the link beside the list of sizes and visualise the light in your space using augmented reality. Note that this only works on a cellphone or tablet as a mobile camera is required.
Showing 1–9 of 32 results